Creating the Best Software
Roster streamlines league administration, registration, reporting, communication and financial services to take the headache out of managing Sports Associations.
About Us
sgSports is a division of Sterling Grace Technologies, a Canadian owned company based in Brockville, Ontario. Through the Roster product, sgSports provides quality sports league management services to several clubs located in Eastern Ontario. In 2008, Sterling Grace Technologies was approached by the Brockville Youth Football Association (BYFA) to build an online registration system that would later become sgSports's flagship product, Roster 1.0. Since its launch in 2009, Roster's software architect Josh Lamb became heavily involved with the BYFA as Treasurer, Registrar and Website Manager, and this experience has helped shape the Roster into a more powerful and versatile tool. Sterling Grace Technologies has offered high quality services to the Eastern Ontario region since 2008. They specialize in intuitive Website and application design, eCommerce solutions, content development, domain registration, managed web and email hosting. Their services also include logo design and branding, illustration, photography, and consulting.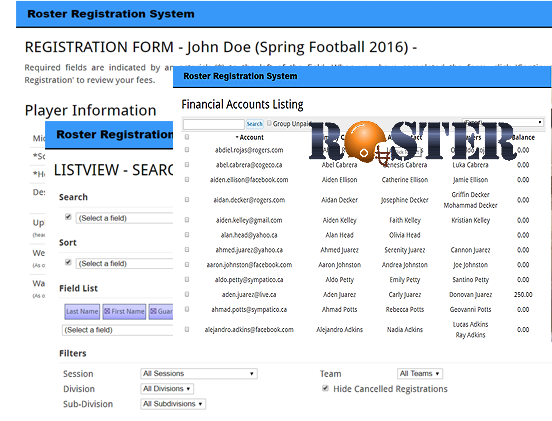 CASE STUDY
Pre Roster
250 players
3 registration nights – 2 hours and 3 volunteers for each
Tax receipts preparation – 7 hours
Payments 40% cash, 60% cheque, 12% unpaid
Incomplete payment records made collection and tax receipts difficult
Roster, Year 1
50% electronic registration
100% of fees accounted for and collected
Tax receipts auto-generated
Payments 25% online, 20% cash, 55% cheque
Roster, Year 2
99.6% electronic registration
1 registration night – 1 hour, 1 volunteer, 1 registrant
Subsequently eliminated in person registration
CASE STUDY
Pre Roster
344 players
3010 stock items ($48k)
2088 unique items ($237k)
Annual loss/recondition budget 20% replacement ($57k)
Approx 8% loss ($23k)
Roster, Year 1
Reduce volunteer manhours 75% for tracking outstanding equipment
Streamline handout and return
One click invoicing delinquent players for replacement value

Improved returns by 90%
Reduced $23k loss by 95%
Savings = $21.5k

Budgeting and Registrant fee planning: 3/6/12 month forecast for EOL and Reconditioning
Roster Economics
Savings = $21.5k
Total Inventory Replacement Value = $285k
Roster Annual Fees @1.5% replacement value = $4275
Total Savings: $17k+
Bottom Line: You Can't Afford Not To Use Roster
Try It For Free!
Roster simplifies equipment tracking, online payments, communications, registration and more.
Try our fully interactive online demo for a preview of the features available.