LEAGUE MANAGEMENT. SIMPLIFIED.
Get back to the game!
Roster is an online hub for sports league registration, reporting, communication, equipment tracking and financial services.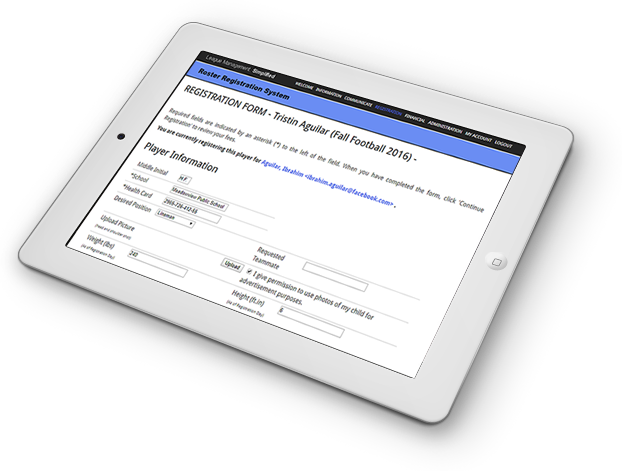 Registration
Player registration and season management
Management tool allows you to create a season, define a registration period, choose the season timeline, registrant fees, divisions, subdivisions and teams.
Easy to use Form Builder
Once a player is registered, an account is created for them.
Previous information is remembered and filled in ahead of time for them, allowing them to review and make quick changes before submitting their form.
Communication
Quickly find any member's contact
Contact Lists automatically built from:

User Types
Registration Sessions, Divisions, Subdivisions and Teams
Reports / Saved Searches

Mailing Lists allow for easy subscriber management
includes support for text messaging at an affordable rate, and free email.
Online Payments
Managed Payment Services (MPS)

sgSports PayPal MPS
sgSports Interac eTransfers MPS

My PayPal
Traditional Methods
Cheques, cash, bursaries
Equipment Tracking
Add, Edit or Retire Inventory through an easy to use dashboard
Send out reminders to players regarding the return of equipment
Invoice players for replacement value of equipment
Export inventory into a standard format
Powerful Financial Tools
User transaction history
Transaction wizard
Export to Leading Accounting Software

Intuit Quick Books
Sage Simply Accounting
Microsoft Excel

Generate Annual Tax Receipts
Advanced Searches and Scheduled Reports
Create complex searches

Team Lists
Equipment Tracking
Unpaid Fees
Etc…

Save searches as Reports for later reference
Receive scheduled reports by email
Share reports with other executive members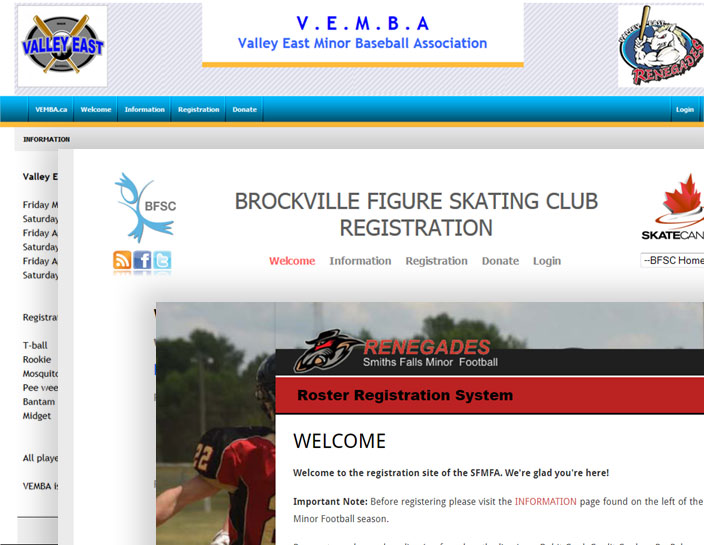 Branding
Roster themes are customizable based on your existing website
Seamless registration experience – most users don't realize they've left your site
Freedom to create your own tax receipt templates with your club's logo and contact information.
Registration forms consist of fields that you can define and arrange, allowing you to collect any type of information that can be entered into a text box, drop down menu, check box, etc.
Branding to match your organization's existing website
Build custom searches based on every field in your registration forms for any season, division, subdivision or team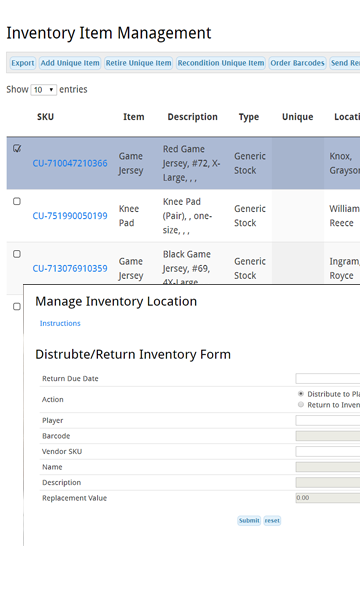 You can also have specialized fields that allow players to upload images (such as a photo or a birth certificate) or other files.
Using the Transaction Wizard, you can charge or credit any account, and choose whether that transaction is eligible for tax receipt purposes.
Contact Lists automatically built from reports, user types, divisions, teams, etc …
Try It For Free!
Roster simplifies equipment tracking, online payments, communications, registration and more.
Try our fully interactive online demo for a preview of the features available.